Posted by : Ham JavaNet
Rabu, 27 Maret 2013
Given kutikom post yesterday about the network's application to secure networks will share again now kutikom ya about applications that manage network NetSetMan to further his understanding yuuk let ...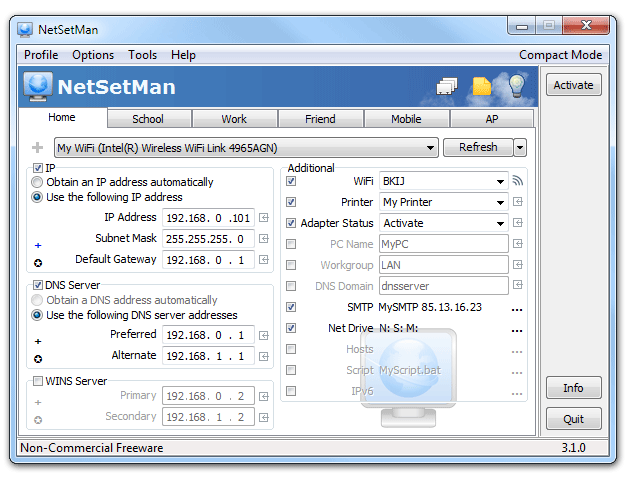 NetSetMan is a handy utility that allows you to manage network settings such as IP Address, Subnet Mask, Default Gateway, Preferred DNS Server and Alternate and other things.
NetSetMan is a network settings manager which can easily switch between 6 different, visually structured profiles including:
- IP Address
- Subnet Mask
- Default Gateway
- DNS Server
- WINS Server
- Computer Name
- Workgroup
- DNS Domain
- Default Printer
- Network Drives
- NIC Status
- SMTP Server
- Hosts File Entries
- Scripts (BAT, VS, JS, ...)
NetSetMan offers you what have been missing in Windows until now:
A powerful, easy-to-use interface to manage all your network settings at a glance. Give it a try and you'll never want to be without it again.
All settings and changes are saved automatically in a separate file (settings.ini) so a backup, transfer or upgrade to another version is absolutely no problem.
What's New in NetSetMan 3.4.5:

- Fix: Several issues resulting from custom tray clicking options
- Fix: Connecting to WiFi while profile activation might've failed
- Fix: Option for start-up with Windows minimized might've failed
- Fix: Activation dialog might've remained opened using "-as" parameter
- Fix: WPA(2) keys consisting of HEX chars only were not accepted
- Fix: Problem with predefined settings when creating a new WiFi profile
- Fix: Running NSM a second time will now bring up the last used mode
- Fix: Possible loss of additional addresses of a profile in certain cases
- Fix: Problems with scripts & NSM Service, direct execution of VBS, etc.
- Fix: (Pro) Problem with proxy settings in MultiProfiles
- Pro version can now be used in portable mode on up to 10 systems
- without re-entering the license information every time
- New way to distribute Pro licenses in corporate environments (see FAQ)
- Command line activation can now also be used if NSM is already running
- Height of Compact Mode is now customizable
- Some language updates
- Several small fixes and adjustments
1.34 MB
Description:
Download Netsetman 3.4.5 Freeware
Rating:
4.5
Reviewer:
Ham JavaNet
ItemReviewed:
Download Netsetman 3.4.5 Freeware
Related Posts :
Download, Jaringan Komputer
Download Netsetman 3.4.5 Freeware